November 16th, 2005, 04:34 Posted By: wraggster

The PSP NEWS & Lik Sang 30 Day Coding Comp winner is now to be announced, heres a quick rundown of the entrants:

The Entrants

William Edmeades - Loki (#1)

Stéphane Lévesque - Ikuzo (#2)

Deniska / NOIZ2SAv07 (#3)

Mike Haggar - PSPicross 0.2(#4)

Xul8t0r / Submission (#5)

PSmonkey / Quake 3 Bsp Map Viewer (#6)

l33th4x0r / Connect 4 (#7)

The downloads and screenshots can be found here --> http://psp-news.dcemu.co.uk/psp30codingcomp.shtml

Heres the scores:

NOIZ2SA By Deniska 37.5
IKUZO By Stéphane Lévesque 36
Quake 3 BSP Map Viewer By PSmonkey 33.5
PsPicross 0.2 By Mike Haggar 32.5
Submission By Xul8t0r 21
LOKI By matthew edmeades 21
Connect 4 By l33th4x0r 14

The winner for the contest was NOIZ2SA By Deniska with a score of 37.5 out of 50 Points followed closely by Ikuzo on 36 and then PSMonkeys Quake 3 BSP Viewer.

I would like to thank Lik Sang for sponsoring the first 30 Day Coding Contest for the PSP. I would also like to thank the 7 coders whos entrys i received and finally the 5 judges from our forums who helped choose the eventual winner.

Heres a screenshot of the winning entry: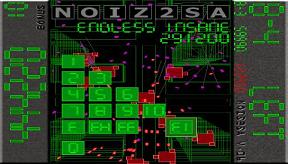 Congrats to Deniska

, please message me with your address etc


For more information and downloads, click here!


There are 12 comments - Join In and Discuss Here