Pssxp is a homebrew snowboarding game made by me, Buddy4point0. In Pssxp, you're the snowboarder. Guide yourself down the slopes while avoiding trees, rocks, and snowmen, collect powerups and gain points. Try to beat all of the many difficulty settings and levels. Go ahead and take a run at everlasting mode and try to beat your highscore, have your family and friends try to beat your score too! I've put a lot of work into this game so give it a try and I guarantee you'll enjoy it.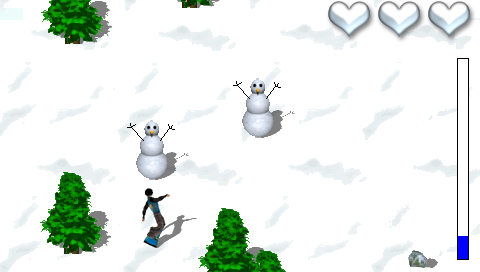 Version 1.2 has ALOT of new features, hopefully you all will enjoy them. Here are the changes to the game for version 1.2
new scoring system in everlasting mode, with point bonus powerups
new unlockable menu
unlockable skifree inspired ending after level 3 is completed
Graphical Upgrades including shadows
game now runs at default clock speed (222), previously ran at max clock speed (333)
new loading screen
Cleaned up code alot, faster code
smaller overall filesize
new data input system
Other small changes and bugfixes (too many and too small to list)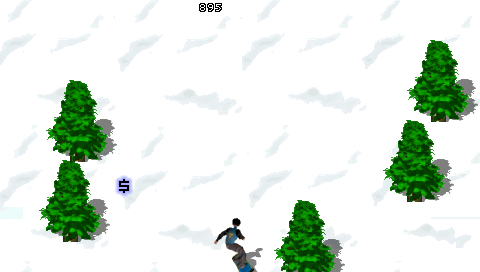 Thats right QJ, you wanted a SkiFree ending, you got one! (you'll just have to wait to unlock it to see it muhahaha)
To install simply extract the zip file, then copy the Pssxp_1.2 folder into you GAME150 folder and run from the game menu.
Responses to questions will only be read and answered here at
http://www.HomebrewHeaven.net
. Any other news site that decides to host it or post the news, link to this page as a source.
Download via
HomebrewHeaven.net
HH Direct DL
Or below (at HomebrewHeaven.net)
Buddy4point0