November 12th, 2010, 15:59 Posted By: bandit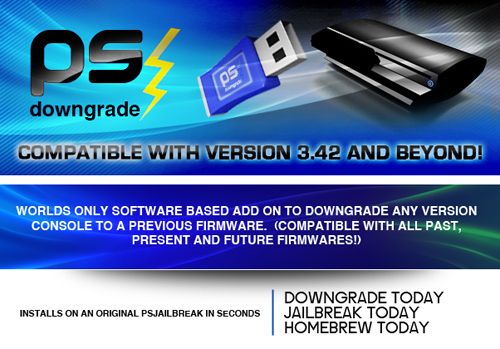 PS Downgrade brought to you by the original PS Jailbreak team is now open for business. The wait is over and we now support all past, current and future firmwares. Buy a PS Downgrade + PS Jailbreak Combo from our worlwide resellers to join in on the Homebrew scene today. All dealers should contact us for new pricing schedules, as well as marketing material. We have just completed a new batch of product ready to ship immediately. Please beware PS Downgrade only installs on original PS Jailbreak devices. There are numerous inferior clones and copycats out on the market claiming to be compatable with our support. This is FALSE!!! Buy original from a trusted reseller or risk beeing stuck with a paperweight.


Specifications:


The wait is finally over! New users above 3.41 fw its time to join in on the fun. Thanks to PS Downgrade, PS Jailbreak is now available for all 44 million users.

PS Downgrade is a software add on that connects with your existing PS Jailbreak device. In 1 minute or less you can downgrade your consoles firmware to any previous firmware.

Simple to install; just plug PS Jailbreak into your pc and follow the gui to install PS Downgrade. Works with all past, present and future firmwares!

Turn back your console to 3.41 to jailbreak with the worlds original PS Jailbreak, or even go as far back as 3.12 to enjoy Other OS (yes LINUX is back). Completely safe to use, and does not void your warranty. PS Downgrade is completely undetecable by manufacturer, there is no history or log of your downgrade.

Please note: PS Downgrade is ONLY compatible with original PS Jailbreak, no clones or inferior USB dongles.


It's interesting to note, that the downgrade can only be used once. According to the source, "1 time downgrade, cannot downgrade more then once, or to a lower firmware after you choose which firmware".

The video below is from an official reseller but here is the kicker...they are charging $40 for the downgrade PLUS the cost of the PS Jailbreak dongle. It seems to be confirmed by other resellers that the PS Downgrade is NOT free and that you'll have to fork over $40 to downgrade. Below are the prices pulled from http://www.ps-downgrade.com/checkout.htm

PS Jailbreak + PS Downgrade $125.00
PS Jailbreak $100.00
PS Downgrade (Requires a PS Jailbreak) $40.00
Suggested Retail Pricing
1PC 40.00$ USD
2PC 38.00$ USD
5PC 35.00$ USD
10PC 33.00$ USD
50PC 30.00$ USD
100PC 27.00$ USD


PS Jailbreak team has said that they worked really hard on this and to prevent others from cloning or hacking their own products. What do you think? You think it can be done? This is great news for the PS3 Scene, but I would of loved to see a 3.50 jailbreak.

Source: PS Downgrade via PSGroove



For more information and downloads, click here!


There are 3 comments - Join In and Discuss Here