November 4th, 2008, 00:25 Posted By: wraggster

News/release from Dolphin Projects of their awesome portal for the PSP: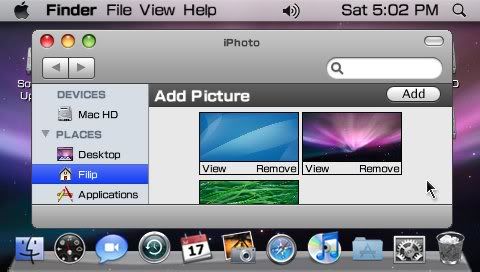 v0.95 BETA - Changelog
================
- Dock Applications Folder has changed icon.
- Dock Text Name is popping up above them when hovered.
- Dock hover icons is already loaded before you hover them (So you don't need to wait for it to load).
- iPhoto is now possible to start from the dock.
- Time Machine has been improved (No image background to the text's frame).
- When starting fullscreen applications or games, your account will log out (to save memory). You will not notice it.
- You can now restart the Mac from the apple menu without loosing your whole settings.
- Boot Camp has now improved its design (a little).
- Login page has now a checkbox feature so you can remember the name and password (You don't need to type in them again).
- In the install page, you must now type in a name to continue.

[v0.9 BETA] - Changelog
========================= ====
-TimeMachine Added
-Mac-HD remodeled
-Preferences remodeled
-Background changer Remodeled
-Dashboard added (but not working, right now)
-Games added
-User Details changer
-optimized to be fast than before
-New menus
-iPhoto added(but not working, right now)


Downloads:
Mirror 1: MediaFire.com
Mirror 2: Sendspace.com


For more information and downloads, click here!


There are 4 comments - Join In and Discuss Here