For all hardcore CSPSP fans!
**** I did not make CSPSP, I just made the SOURCE mod with TOP_PRO! ****
Visit the CSPSP forums!
http://z4.invisionfree.com/CSPSP/
To begin, I will post about CSPSP-S first, then I will post the Map pack.
Note from nataku92: This is a mod of CSPSP v1.56 made by TOP PRO and XIPHIRX. They've definitely worked hard on this (as you can obviously tell), and I recommend everyone to download and try it out. Depending on how well the community likes the different modifications, some of them will be incorporated into future CSPSP releases (I have a feeling most to all of them will :P ).
After much hard work and testing and without further ado...
TOP PRO and XIPHIRX bring you...
Counter Strike PSP 1.56 - Source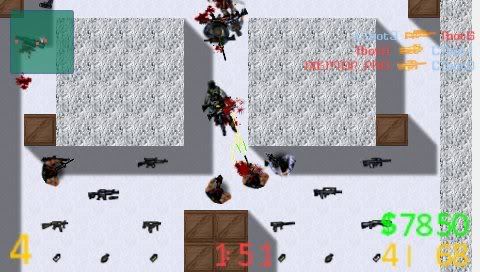 :::LIST OF FEATURES:::
Quote:
____New Gameplay stived to resemble CS-Source!
____Updated to REAL CS:S Weapon behavior
-Fire Rates
-Damage
-Reload Times
-Ammo
-Walking Speed
-spread
-silencers
____Updated Buy Menu
-Weapon buy menu names
-prices
____Fonts
-gameplay
-menu
-Hud
____New Updated graphics
-Players
-Guns
-Gunsground
-radar
-blood
-BG
-logo
-Eboot
-and MORE!
____NEW and improved sounds
-CS:S gunfires
-Reload sounds
-player grunts
-music
____Shadows
-Maps
-players
-------------ALSO Includes!-----------
____6 Updated maps
-De_Dust2_Source
-fy_nade_Source
-Icebox (A.K.A. fy_snow_Source)
-iceworld_Source
-dm_Docks (A.K.A. 3_Container_Ship_Source)
-winter_Source
____2 Never before released maps
-mp_shipment
-Dm_Tactical
____Updated Source UCSPSPE.jar
-player models
-Source weapon names
-startup splash
____everything you need to start your own SOURCE server
-configured hosting files
____Extra bg.png's
____Shadows.png for future map-makers
So what the heck are you waiting for?
!!!DOWNLOAD!!!
http://www.binaryphoenix.com/xiphirx...6%20SOURCE.zip
MIRRORS!!!
http://www.sendspace.com/file/mrggr8
http://www.megaupload.com/?d=PEJDSAS5
And enjoy your CSPSP even more than you already are!
DIRECTIONS!!!
Quote:
From the download.
you get a folder called
CSPSP 1.56 SOURCE
inside are 3 folders
CSPSP-S, CSPSP-S Server, and CSPSP-S Map Editor
Put the CSPSP-S folder into your Ms0:/PSP/GAME folder.
P.S.
Xiphirx and Top Pro will also start their own series of releases called
[SOURCE MAP PACK]s
which Will contain more excellent maps guaranteed to please your CSPSP-S needs.
So try out this new version of the game and leave some comments people