August 16th, 2007, 19:41 Posted By: wraggster

Yongobongo has posted a new entry into the Neoflash Coding Comp: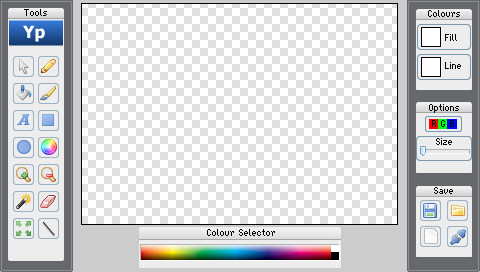 New Update-

yPaint AE-2 released, patch to work on Custom Firmwares through XMB.

yPaint is a powerful graphic editing program for the Sony PSP which allows users to edit photoes (up to 512x512 in resolution for PNGs) in PNG or JPG format, or create completely new images in a user-friendly environment.

Features
- Save
- Open
- USB Mode, for transferring created images
- Pencil
- Zoom (up to 4x zoom, with no quality loss!)
- Brush
- Custom Brushes (by Haxxblaster, these are from version 5)
- Text Input Tool
- New Enhanced Keyboard (based on Danzeff, originally by Fuzzie 360)
- Rectangle Tool
- Circle (Ellipse) Tool
- Random Spray Tool (Like the spray in MS Paint!)
- New redesigned interface
- Size selection
- RGB Colour Editor
- Quick Colour Selector
- Full Colour Selector
- Eraser (Now transparent, not white!)
- Transparency in canvas (NOTE: Save as PNG if you want to keep the transparency!)
- Line Tool
- Scroll Tool (To move around canvas)
- Fill Bucket (Fill areas of the same colour, NOTE: This is a little buggy.)
- Completely recoded from the ground up
- PDF User Manual
- 'settings.cfg' for editing settings

Notes
- The zoom is made mainly for pixel art, so custom brushes etc. will give a bit of an inaccurate preview since the preview isn't resized with the canvas.
- The zoom may cause a slight lag in the program.
- In settings.cfg, you can edit the save/load directory. Read the PDF manual for more info.

Download and Give Feedback Via Comments


For more information and downloads, click here!


There are 11 comments - Join In and Discuss Here