August 12th, 2008, 19:48 Posted By: wraggster

News/release from Gefa: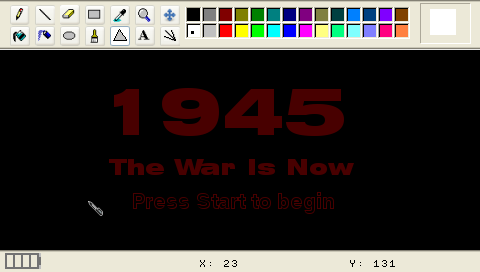 PaintMIXER is a drawing homebrew written in LUA, a clone of the well-known MSPaint.

Features
- Pencil Tool
- Line Tool
- Eraser Tool
- Rectangle Tool -empty or full-
- ChooseColor Tool
- Zoom Tool
- Triangle Tool
- Irradia Tool
- Move Tool
- Filling Tool
- Graffiti Tool
- Circle Tool
- Ellipse Tool
- Brush Tool - 4 types -
- Text Tool. Initially, are available 27 fonts.
- Options Menu, in the witch is possible:
- Begin a new picture
- Load a new picture
- Save the picture in two possibles formats: PNG or JPG.
- Change analog sensibility
- Choose a custom color
v 2.6.0 ->
- Now is possible to add new fonts. To do it, rename your font, increase the 'font_limit' variable present in the ini file, and copy your font in the resource/font directory.
- Small improvements at the tools rectangle, circle, irradia.
- Fixed some bugs.
- Added a new option in the ini file, in the witch is possible to change the default analog sensibility.
Download and Give Feedback Via Comments
For more information and downloads, click here!


There are 3 comments - Join In and Discuss Here