August 13th, 2005, 19:33 Posted By: wraggster

Matan has ported the x86 emulator Bochs over to the PSP, now you can run Dos games and even Win95 or Linux on your PSP, heres some news from his site:

Yes, it's true. I've managed to run Windows 95 and Linux on the PSP. I've done it by porting the excellent open source x86 emulator Bochs.

Windows 95 actually runs quite well but don't expect it to be a speed demon. It takes about 10 minutes to boot but afterwards it's pretty usable. I was able to do things like: open "My computer" and browse the virtual hard drive, complete a whole game of Minesweeper and run various other applications. Now you too can get your Minesweeper fix on the go



I've also tested DLX Linux which comes pre-packaged with Bochs and it works just fine. However, I couldn't do much with it because there's no keyboard support. If you want to do your word processing on it then wait until keyboard support is implemented (though I doubt it will be any fun using the joystick).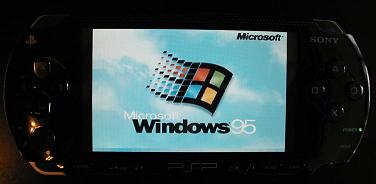 Screenshots and downloads Here --> http://psp-news.dcemu.co.uk/bochspsp.shtml

Start testing games and report back to us

For more information and downloads, click here!


There are 101 comments - Join In and Discuss Here