PSP News is a News and downloads site for the Playstation Portable, We have all the latest emulators, homebrew, commercial games for the PSP and all the downloads on this site, we also cover commercial gaming and console news. Part of the DCEmu Homebrew & Gaming Network.
PSP Homebrew
Name = NOIZ2SA PSP
Authors /Website = Deniska / http://www.dcemu.co.uk/vbulletin/showthread.php?t=12601
Screenshots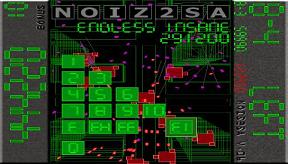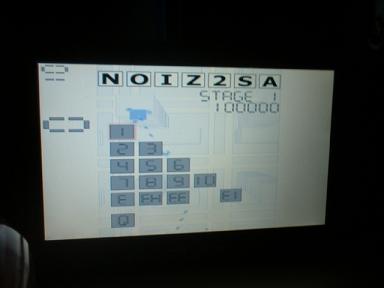 Downloads = NOIZ2SA PSP 0.8 19th November 2005 / Discuss this release Here --> http://www.dcemu.co.uk/vbulletin/showthread.php?t=14096
NEW IN V0.8
- ogg vorbis support: original soundtracks by Kenta Cho provided for stages 1-5 and 3 ENDLESS modes
- tracker music support (s3m, xm, mod) is still in place (tracker music is provided for stages 6-10)
- custom ogg, s3m,xm,mod music support: replace existing stg00.*,stg0.*-stg9.* files in sounds directory with your favorite music (there are plenty of mp3/wav/atrac --> ogg converion tools available on the net).
- minor code optimizations.
Note, that ogg decoding requires more CPU cycles. So you may want to keep tracker music for late & action packed stages of the game to make the things run faster.
You can reset the High Scores by deleting the noiz2sa.prf...
You can still customize almost all other aspects of the gameplay or chose the "classic" settings - just read the atatched documentation.
Enjoy,
DENIS
PS: It appears that there is another port of NOIZ2SA development taking place at snv.ps2dev.org. This, more straight forward, port approach is based on the most recent versions of SDK, SDL as well as other recent PSP libraries. While it is still not as fast & polished as this version of the game, it definitely worth keeping an eye on.
NOIZ2SA PSP 0.6 30th October 2005 / Discuss this release Here --> http://www.dcemu.co.uk/vbulletin/showthread.php?t=13049
- Color customization: all game colors can be re-assigned by changing ./images/colors.txt file
colors are in 8 bit RGB format (where R,G,B range from 0 to 255.
Note that actual display color components are in 5 bit format, meaning that colors (255,255,255) & (254,254,254) are going to look the same on the screen...
- New color theme. Of course, if you don't like it, create your own or use the classic one by swapping files in images directory withthe ones from images_classic.
- Side panels can be changed by editing corresponding images in ./images directory.
Make sure you keep the size the same & save images as 8 bit BMPs.
- Expanded soundtrack support. Each finite level has it's own soundtrack now.
- FX volume adjustment: get the perfect music/fx ratio with [SQARE] & [TRIANGLE] buttons during the game play.
- Soundtrack playback in main menu.
- New soundtrack added.
NOTE: you can still use any mod/s3m/xm/it files as your game music. Make sure that they have <8 channels, named propery & put in the sounds directory.
- Rendering optimizations: frame rate is boosted from 20fps (v.05) to 30fps normal / 60fps
wireframe mode. Wireframe mode can be enabled by setting "RENDER_BG 0" in ./images/colors.txt file. If set, background is not filled with color, which, in my opinion, creates a nice effect & saves lot's of CPU juice for boosting the frame rate.
- Numerous bug fixes: it should not hange on exit anymore, play sound on extra life bonus and so on.
- Source code, although not clean and highly unreadable, is released. Use the latest build of PSPSDK to build. You'll need to install a bunch of libraries from ps2dev.org prior to build...

NOIZ2SA PSP 0.5 19th October 2005 / Discuss this release Here --> http://www.dcemu.co.uk/vbulletin/showthread.php?t=12601

Information =

NOIZ2SA PSP 0.5
[INTRO]
This is a PSP adoptation of 2D abstract shooter originally developed by Kenta Cho (http://www.asahi-net.or.jp/~cs8k-cy.../noiz2sa_e.html) for PC.
!!! PLEASE USE THIS SOFTWARE AT YOUR OWN RISK.
!!! THIS IS STILL A BETA VERSION.
!!! I AM NOT RESPONSIBLE FOR ANY DAMAGE IT MAY CAUSE TO YOUR PSP.

FEATURES:
> high score saves
> sound support
> custom stereo soundtrack support
> snapshots
INSTALL:
v1.5 users: copy NOIZ2SA and NOIZ2SA% folders from 1.5 to your [psp_drive]:\PSP\GAME folder.
V1.0::: I don't have any experience with this firmware version. Hopefully PBP file in 1.0 folder works out for you.
just get images boss middle zako & sounds subdirectories from the 1.5 version....
There is also an icon and background there to bundle with PBP file.
GAME PLAY:
[x] - to select/fire
[arrows/analog pad] -to navigate/move
[start] -to pause/play
[left trigger] -take snapshot
[right trigger] -slowdown ship's movement
Screen shots are saved as noiz2sa_screen[#].png in the root of your MS card.
!!!The soundracks supplied with this release were collected from the WEB. All credit for them belongs to their respective authors!!!
You can customize the soundtracks by changing stg*.* files in the sounds sub-directory.
Currently the game should accept mod, s3m, xm & it formats.
http://www.modarchive.com is a good place to find mod music.
Limit the file size for a single song to ~ 500K
You can modify the gameplay by changing the enemys attacking patters.
The pattern files are in boss middle & zako subdirectories.
The files are in BulletML (http://www.asahi-net.or.jp/~cs8k-cyu/bulletml/index_e.html) xml like language.
TODO:
rendering performance optimizations
smoke effect
possible ogg/mp3 support
review the color scheme, possibly add cool background and skins...
SOURCE CODE:
I plan on releasing the source code shortly..

Enjoy,
DENIS

The Hottest DCEmu Posters