PSP News is a News and downloads site for the Playstation Portable, We have all the latest emulators, homebrew, commercial games for the PSP and all the downloads on this site, we also cover commercial gaming and console news. Part of the DCEmu Homebrew & Gaming Network.
PSP Homebrew
Name = Wifi Multi Test
Authors /Website = PspPet
Screenshots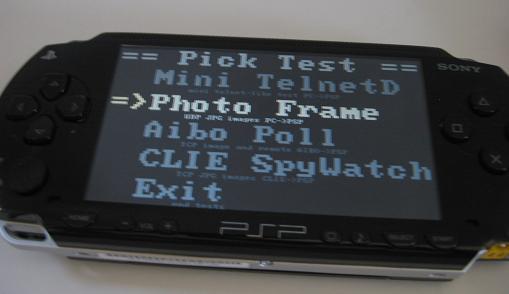 Downloads =
PSP 1.0 version: wifi_sample_002_run10.zip
PSP 1.50 version: wifi_sample_002_run150.zip
(same program, 1.50 version packaged using kXploit .3. Program is ~100KB larger because of included jpeg decompression code)
Information = Wifi MultiTest .02
The WiFi multi-test program serves several purposes - basic WiFi access, how to connect to other Sony devices; a generally useful PSP program and sample source code.
I've split this into two topics, for people who only want to run the program, and for developers who want to write code based on the sceNetINet sockets-like layer.
This thread is for people running the program. Please discuss connection problems or other things here (as homebrew users)
Check the PSP developer forum if you want to talk about the source code.
See this webpage for installation instructions, some (blurry) photos and other info.
http://aibohack.com/psp/wifitest.htm
If you only have a PSP and a WiFi enabled PC, you can use the PhotoFrame feature (use the PSP as a wireless photo display)
PSP 1.0 or 1.50 only of course.
If you have other Sony WiFi gadgets, including certain models of AIBO robot dogs or (now discontinued) CLIE PDAs, you can do other things.
The Hottest DCEmu Posters