PSP News is a News and downloads site for the Playstation Portable, We have all the latest emulators, homebrew, commercial games for the PSP and all the downloads on this site, we also cover commercial gaming and console news. Part of the DCEmu Homebrew & Gaming Network.
PSP Homebrew
Name = Wall Breaker
Authors /Website = Diggen
Screenshots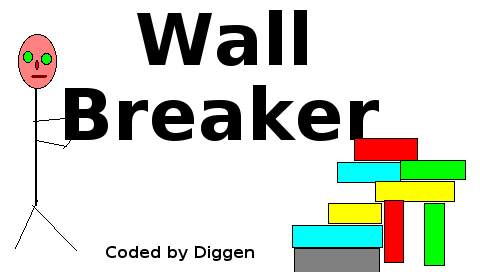 Downloads =
v1.0Beta 24th October 2005
------------------------------------------------------------------------
Added: Combos
Changed: Skin Handling, if there are not all required files they are being loaded from Default Skin
Added: Nicer Loading Screen
Fixed: The fast-moving-lines Bug whenn you have 50000 pts and higher
Changed: Some code cleanups
Added: Skin from One5siX
ToDo:
Write something like a manual
Code Cleanups
There is sometimes an unkown Bug thats prevent the Standalone version from starting,
but you can always use the Lowser-Version
When nobody finds a big Bug this can, after some code cleanups, become Final
v0.03 21st October 2005
To use the new BGM-Options copy some ".mod"s into the bgm dir.
Get them at www.modarchive.com, www.aminet.net or www.google.com
For Skins make a new dir at skins and copy over the files from an other skin
and edit these (only use PCM wav's not ADPCM from MS
Added: InGame Screenshot function on TRIANGLE
Added: Options Menu
Added: Option Saves
Changed BGM Folder
Added:. BGM choose
Added: BGM Soundest mode
Added: Skin choose
Added: Highscore Menu
Added: Highscore Saves
Changed: Many Graphics
Added: Menu Sound
Added: Bitmap Fonts (little improved version from http://forums.ps2dev.org/viewtopic....83 4e83b5a25a7)
Changed: Menu to new Fonts
Added: New Skin
Changed: Default Skin
Determined: The About screen remains in its Matrix Style
v0.02 19th October 2005

Fixed:Controls
Fixed:Miscellaneous Bugs
Added:Sounds
Added:Bricks in destroyed Stones
Added:Menu
Added:Pause
Added:About, go here for Controls
18th October 2005 Here
Information = Wall Breaker v0.01 by Diggen
------------------------------------------------------------------------
Take Standalone/WallBreaker to psp/game for Standalone
else copy the Lowser/Wallbreaker dir to your LuaPlayer App dir

Please Copy some MOD named "bgm.mod" (without the "") to the "Wall Breaker" dir
Some good MODs are at www.aminet.net
Feel free to Change the Images.
Controlls
----------------------------
X = Got/Shoot Block
START = Return to Title Menu

TODO:
Some bgm.mod
A shoot sound
Some Animations
Save Highscores
A better Menu
Code cleanups
The Hottest DCEmu Posters