Buy on AliExpress.com
PSP News is a News and downloads site for the Playstation Portable, We have all the latest emulators, homebrew, commercial games for the PSP and all the downloads on this site, we also cover commercial gaming and console news. Part of the DCEmu Homebrew & Gaming Network.
PSP Homebrew and Hacking Pages
App Name = PSP Video 9
Authors Website = http://www.pspvideo9.com/
PSP Video 9 was developed by Sajeeth Cherian, a communication engineering student at Carleton University, as well as the founder and lead developer of the video distribution software, Videora.
Development of PSP Video 9 would not be possible without the help of many individuals and groups including: MobileHackerz, FFMPEG Team, Runtime and Everaldo Coelho
Screenshots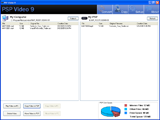 Downloads = Latest File v1.74
Donate = Help the team by Donating at this Page
Information = PSP Video 9 is a free PSP video conversion and management application. It can convert regular PC video files (avi, mpeg, etc) into PSP video files, as well as manage/copy these PSP video files between your PC and PSP.
When combined with another application, Videora + PSP Video 9 form the first PSPcasting solution, allowing you to download, convert and copy video to your PSP, automatically using BitTorrent and RSS technology.
Release Notes:
1.2 - The Thumbnail Selection feature requires that you have the QuickTime ActiveX Plugin for Internet Explorer installed
0.95 - The crop boxes don't follow the XP Visual style. This is a limitation of .NET, there's nothing I can do about it.
Upgrade Notes:
First time PSP Video 9 users should use the "Download Now" link to download PSP Video 9.
You MUST close PSP Video 9 before upgrading.
If you do not want to lose your settings, profiles and maybe overwrite your already encoded video, then download the upgrade using the "Download 1.xx Upgrade" link on the front page.
If you install using the full install ("Download Now" link), all your settings, profiles will be erased and your already encoded video may be overwritten. You have been warned.
The Hottest DCEmu Posters