PSP News is a News and downloads site for the Playstation Portable, We have all the latest emulators, homebrew, commercial games for the PSP and all the downloads on this site, we also cover commercial gaming and console news. Part of the DCEmu Homebrew & Gaming Network.
PSP Homebrew
Name = Load Mag
Authors /Website = HERE
Screenshots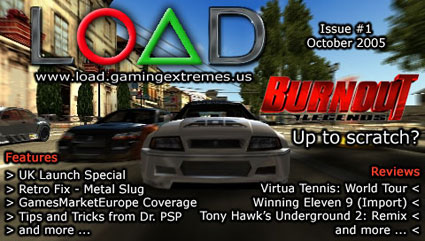 Downloads = September 29th 2005

Information = PSP Magazine for all PSP owners

LOAD magazine's premier issue is now available for download. It weighs in at 120-pages—or, PSP screens—and features a UK launch special, a handful of reviews, CG & TGS coverage, plus a DV-to-PSP guide and some other nice content. If you download the "Media Edition," you'll also receive a couple music tracks from The Colour.
As is, you're going to have to download the magazine (zip file) to your computer, unzip it, and then transfer it to your PSP. However, the website does mention that it is currently being reformatted to fit the v2.0 web browser. Our hope is that you'll be able to access LOAD's homepage and download the magazine all on your PSP.
The Hottest DCEmu Posters