PSP News is a News and downloads site for the Playstation Portable, We have all the latest emulators, homebrew, commercial games for the PSP and all the downloads on this site, we also cover commercial gaming and console news. Part of the DCEmu Homebrew & Gaming Network.
PSP Homebrew
Name = PSP Pacman
Authors /Website = James Peerless
Screenshots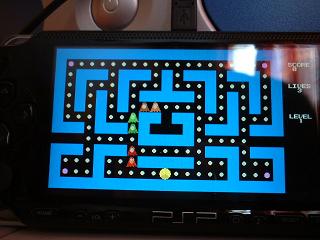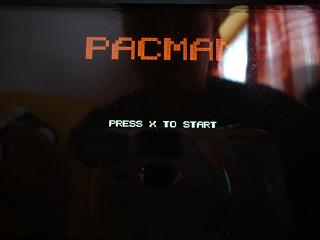 Downloads = V1.3 Here 9th august 2005
Apparently my last release which supposedly fixed the fruit bug, did not work. So here it is, another attempt at fixing the fruit bug. I can no longer get the fruit bug to work myself, and I would appreciate it anyone can cause the bug to happen to let me know about it
v1.2 Here 29th July 2005
--PACMAN V1.2--
Hey everyone,
this update is a minor one, but needed badly.
Someone found a glitch with the newly added fruit which allowed you to get TONS of points fairly quickly.
In this new version I have removed the fruit glitch and also updated the graphics
You may have noticed in the earlier versions there was random pixels near the edges of all the graphics
well, this was due to me using jpegs. All the graphics are now done with bmp's and are all crisp and clear.
have fun.
v1.1 Here 27th july 2005
– Added analog stick support
– Added free life every 10,000 points
– Fixed bug where ghosts would stay blue after you beat a level.
– Fixed collision detection bug where you would die from ghosts when they weren't even touching you
– Added a fruit you can eat that appears randomly throughout each level, it is worth 500 points
– Added a PAUSE feature, when you press start button. Also when game is paused it will say "Press X to quit" this will take you back to title screen.
– Ghosts now FLASH to white and blue before they turn back to normal
– Added EBOOT.PBP for version 1.0 users!

New release Here 27th July 2005
V1.0 HERE 22nd June 2005
Information =
Homebrew game for PSP
Fully playable Classic game, no sound or music on this release.

The Hottest DCEmu Posters