PSP News is a News and downloads site for the Playstation Portable, We have all the latest emulators, homebrew, commercial games for the PSP and all the downloads on this site, we also cover commercial gaming and console news. Part of the DCEmu Homebrew & Gaming Network.
PSP Homebrew
Name = Nethack for PSP
Authors /Website = VMU http://virtuamunstaz.de/nh/ Release Thread http://www.dcemu.co.uk/vbulletin/showthread.php?t=8748
Screenshots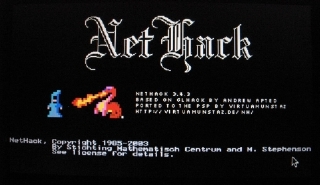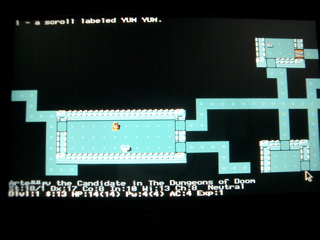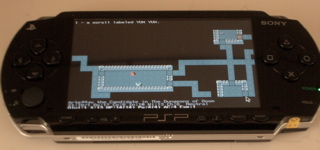 Downloads = Nethack for PSP v1.0b Here 17th August 2005
Update: 1.0b released. You may not see many changes. Its mainly code cleanup and understanding of the sources. The game data and saves are now stored in the game dir. I also fixed the corrupted icon display. More keys have been added to be able to wear and take of armor and items. A mouse emulation has been added and can be used to select items. Make sure you read the Guidebook on nethack.org and adapt the file .nethackrc in the game dir.

Here August 3rd 2005
Information = What is NetHack?
NetHack is a single player dungeon exploration game that runs on a wide variety of computer systems, with a variety of graphical and text interfaces all using the same game engine. Unlike many other Dungeons & Dragons-inspired games, the emphasis in NetHack is on discovering the detail of the dungeon and not simply killing everything in sight - in fact, killing everything in sight is a good way to die quickly. Each game presents a different landscape - the random number generator provides an essentially unlimited number of variations of the dungeon and its denizens to be discovered by the player in one of a number of characters: you can pick your race, your role, and your gender.


The Hottest DCEmu Posters