PSP News is a News and downloads site for the Playstation Portable, We have all the latest emulators, homebrew, commercial games for the PSP and all the downloads on this site, we also cover commercial gaming and console news. Part of the DCEmu Homebrew & Gaming Network.
PSP Homebrew
Name = Lowser
Authors /Website = nCoder
Screenshots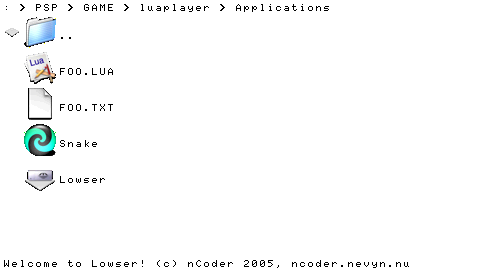 Downloads = v0.12 Here August 4th 2005
- Added a background picture
- Rehaul of much internals
- Lists don't behave like an ugly hack
- Changed controls to only use arrows.
Information =
Lowser is a file browser for PSP. It needs Shine's LuaPlayer runtime environment and a Sony PSP with a firmware without the web browser (Firmware version 1.5 or lower).
The Hottest DCEmu Posters