PSP News is a News and downloads site for the Playstation Portable, We have all the latest emulators, homebrew, commercial games for the PSP and all the downloads on this site, we also cover commercial gaming and console news. Part of the DCEmu Homebrew & Gaming Network.
PSP Homebrew
Name = The Icarus Project
Authors /Website = chaosmachine / http://www.dcemu.co.uk/vbulletin/showthread.php?t=13718
Screenshots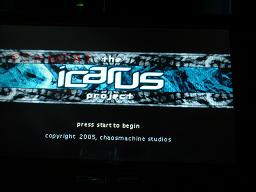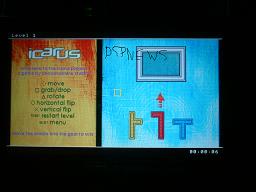 Downloads = 12th November 2005 Lua Player Ver / V1.0 Firmware Ver / V1.5 Firmware Ver
Information = The Icarus Project is a remake of a great, but little known, puzzle game called Daedalean Opus (aka Puzzle Road in Japan).
Daedalen Opus was released by Vik Tokai, for the Nintendo GameBoy, way back in 1990. Due to it's unpronounceable name and weird-looking box art, this game did not receive much attention from the public.
However, the gameplay is actually very fun, and well suited to the portable format. In fact, it might just be the best puzzle game you've never played.
The Icarus Project keeps the same gameplay as the original game, but the levels, graphics, and music have all been redone for the PSP.
The Icarus Project features:
- 15 levels, each one more challenging than the last.
- High-Quality graphics, unique to each level.
- Music from Vivaldi, Bach, and Corelli, rendered in classic Chip-Tune style.
- Highly polished controls and menus.
- Automatic progress saving.
- Hours and hours of very addictive gameplay (You've been warned!).
The Hottest DCEmu Posters