PSP News is a News and downloads site for the Playstation Portable, We have all the latest emulators, homebrew, commercial games for the PSP and all the downloads on this site, we also cover commercial gaming and console news. Part of the DCEmu Homebrew & Gaming Network.
PSP Homebrew
Name = Fireworks Lua Script
Authors /Website = Gullwings13
Screenshots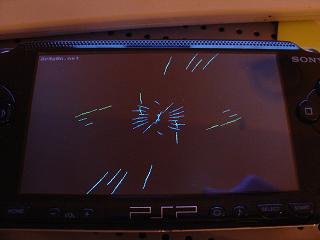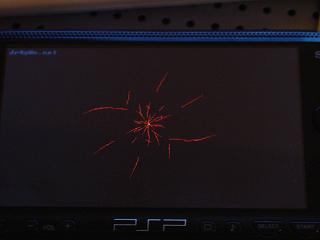 Downloads = Here 7th September 2005 v0.2 DJsp and Lua Player Compatible
v0.1 Use by putting into Lua Player
Information =
New features in the 0.1 release:
- Some audio syncing
- Color cycles though color spectrum (somewhat in sync with audio)
- Most text removed for cleaner feel
Features being worked on:
- Better audio syncing
- More bang for buck (optimising further)
- More varying color scheme's
- Streams that go off screen will come back on, on the opposite side
- Menu system (possibly, for access to variables)
- Lua Player version
- Who knows!

The Hottest DCEmu Posters