PSP News is a News and downloads site for the Playstation Portable, We have all the latest emulators, homebrew, commercial games for the PSP and all the downloads on this site, we also cover commercial gaming and console news. Part of the DCEmu Homebrew & Gaming Network.
PSP Homebrew
Name = Casino Addict
Authors /Website = Globware (http://www.globware.com/psphomebrew.php)
Screenshots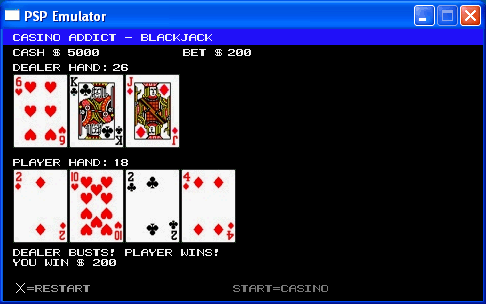 Downloads = Here v0.6 2nd July 2005
Here v0.5 2nd July 2005
Here v0.4 25th june 2005
Here v0.3 25th june 2005
Here v0.2 24th june 2005
Information = Card game
Casino Addict v0.2
Games Included:
* Blackjack
* Red Dog
Features:
* Save Game feature to keep track of your cash. Your game will be saved automatically when selecting Exit or pressing the Start button at the main casino menu.
The Hottest DCEmu Posters